20 Best Low-Carb Thanksgiving Side Dish Recipes
The 20 Best Low-carb Thanksgiving side dish recipes. With this assortment of tasty keto Thanksgiving side dishes, Thanksgiving preparation will be less stressful and time-consuming. Get 100 Keto Instant Pot Recipes Now. And make some easy side dish.
Treat your family and friends to a keto Thanksgiving feast this year with one of these simple keto low carb recipes; there is something for everyone, from traditional family favorite to foods you may not have seen before. So enjoy the 20 Best Low-Carb Thanksgiving Side Dish Recipes.
Tips to eat Keto on Thanksgiving
Here's what to do if you want to stick to a ketogenic low-carb diet throughout the holidays:
Eat a lot of protein in the week leading up to the big meal. Protein helps prevent hunger.
Avoid skipping breakfast! Your metabolism will be better suited for the remainder of the day if you eat breakfast.
Have snacks on hand. The benefit of snacks is that they provide you with something tiny to consume in between meals. Additionally, they offer additional fuel upon request.
Drink plenty of water to keep yourself hydrated. Water helps you feel fuller for longer, which helps you avoid overeating. Tired of plain old water! try

Sparkling ice

, It's also keto-friendly
Drink as little alcohol as you can. If you must drink, go for red wine rather than beer or booze. Antioxidants found in red wine may help prevent heart disease.
Avoid using sugar substitutes like Splenda. These also contain carbs.
Having fun! Don't worry over how many carbs you consumed; instead, take pleasure in your time with friends and family. Just go back on track when you can and keep in mind to follow the above guidelines.
20 Best Low-Carb Thanksgiving Side Dish Recipes
To view the complete recipe on the original blog, simply click the underlined highlighted recipe link. 
Low Carb/Sugar-Free Jello Fluff Salad Recipe

: The base for traditional jello salad recipes often consists of cool whip and cheddar cheese shreds. Both heavy cream and cottage cheese are used in this recipe. These variations result in a tasty side dish that is very low in carbs and sugar-free. Although it has a somewhat heavier texture than typical jello salads, the flavor is superb. This dessert will sate your sweet tooth yearning while being low in carbs and sugar-free.
Roasted Broccoli with Lemon and Pecorino–Romano Cheese: Thanksgiving-appropriate lemony broccoli from Kalyn's Kitchen can be prepared at the same time as the turkey and placed in a hot oven for 15 minutes before being topped with cheese and served.

Keto Sausage Stuffing

: This make-ahead Thanksgiving meal is completely keto and totally flavorful. It can be stuffed into the turkey or served as a dressing on the side. It doesn't get any tastier for keto Thanksgiving side dishes than this traditional stuffing.
Loaded Cauliflower Casserole: Any holiday meal can use this baked cauliflower dish in place of the traditional potato side. Cauliflower is combined with sour cream and cheese, baked, and then topped with bacon and additional cheese. The end product is a delightful side dish that will make you feel good about eating low-carb vegetables.
Brussels Sprouts with Almonds & Brown Butter: Everything is better with brown butter, and these traditional keto side dish recipes are no exception! This dish for keto Brussels sprouts is a keeper because it's flavorful and has a nutty texture.
Roasted Green Beans with Mushrooms, Balsamic, and Parmesan: Millions of people have bookmarked Kalyn's Kitchen's recipe for Roasted Green Beans with Mushrooms, Balsamic, and Parmesan, which is perhaps her most popular low-carb Thanksgiving side dishes.
Keto Green Beans & Cream Cheese: A quick and easy green bean side dish that is low in carbs and keto-friendly is keto green beans with cream cheese and garlic. This simple side dish is really easy to prepare, but bursting with flavor in every bite.
Mashed Cauliflower with Parmesan and Chives: I believe that adding this dish of Mashed Cauliflower with Parmesan cheese and Chives from Foodie Crush to the Thanksgiving dinner would be a good idea.

Parmesan Brussels Sprouts with Bacon

: This meal is loved by even sprouts haters! With lots of bacon and a thick, creamy Parmesan sauce, tender-crisp Brussels sprouts are covered. Check out this keto Thanksgiving side dish featuring Brussels sprouts!
Chili Garlic Green Bean Recipe: Next is a simple but delicious side dish that goes nicely with just about any supper. Even though it just only five ingredients, it is tasty and filling. Garlic and chilies combine to provide a flavorful dish that also has a highly pleasing appearance.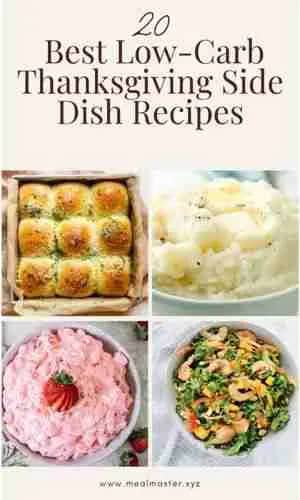 Steakhouse Creamed Spinach

: What's not to love about keto-creamed spinach? It's bubbly, cheesy, and full of garlicky spinach. Plan to serve this keto spinach recipe at your dinner because it is yet another wonderful make-ahead dish!

Blistered Green Beans with Crispy Bacon

: Anyone who enjoys green beans would adore the Low-Carb with Jennifer recipe for blistered green beans with crispy bacon.
Roasted Shrimp & Cauliflower Salad: The ideal meal to bring to a keto potluck feast is this one. It's a classic make-ahead dish that is colorful and flavorful and tastes even better when refrigerated. Make this keto shrimp salad right away to wow your guests!
5 Ingredient Shredded Zucchini & Feta Sauté: Zucchini is a tasty and versatile vegetable. Garlic and dill flavors combine with zucchini to produce a delicious and keto-friendly veggie making it the perfect keto side dish for any meal. The inclusion of Feta cheese brings the textures and flavors together.
Sauteed Asparagus & Mushrooms: Asparagus and mushrooms are a classic combo that goes well with turkey. It is also a low-carb sides that is ideal for keto dieters!
Baked Yellow Squash Noodles And Cheese: This keto-friendly version of traditional macaroni and cheese has yellow squash noodles and homemade cheese sauce. It will satisfy the childhood longing for cheesy noodles that many individuals have. This complements almost every meal.

Creamy Mashed Cauliflower

: Mashed cauliflower can be made to taste exactly like mashed potatoes. This low-carb recipe will be a hit at your dinner party.
Loaded Cauliflower Rice: Loaded cauliflower rice smothered with cheddar cheese, cream, crunchy bacon, and ranch dressing is a tasty, keto-friendly, and low-carb side dish that only takes 10 minutes to prepare.

Pull-Apart Clover Rolls

: These low-carb, gluten-free Keto Pull-Apart Clover Rolls are soft, fluffy, and cheesy!
Shaved Brussels Sprouts with Lemon and Toasted Almonds: The Brussels sprouts and crisp almonds add a variety of textures. Instead of the more conventional techniques of preparation, it is based on sautéed brussels sprouts. The lemon adds a fresh, light flavor to the sprouts, while the coconut aminos add a salty kick. After being sautéed, the Brussel sprouts retain some crispness. This is a perfect side dish for practically any meal.
Holiday meals are famous for having a large variety of food, making it harder to eat healthily. You can enjoy a holiday meal with your whole family while adhering to your Keto eating goals by selecting one or more of these Keto Thanksgiving holiday recipes. You can also drink some Sparkling ice or V8 splash.
If you adhere to the guidelines outlined above, you should have no trouble maintaining a low-carb lifestyle during the holiday season. Grab Your 100 Keto Instant Pot Recipes Now, and have a blast with these easy Thanksgiving side dish.
Conclusion
These are the 20 best low-carb Thanksgiving side dish recipes. Each dish is flavorful and hearty, without being heavy on the carbs. So if you're on a ketogenic diet and looking for a way to enjoy all your favorite Thanksgiving classic flavors without all the guilt, give these easy recipes a try. And be sure to let us know which one is your favorite!