Fried King Crab Legs Today I'm going to show you how to fry crab legs effortlessly. Frozen Alaskan King Crab Legs are dipped and breaded before being fried in a Dutch oven with some spicy old bay seasoning. Fried crab legs are an excellent appetizer, especially when served with a tasty dipping sauce. Also, see How long to deep fry frozen chicken wings
These huge king legs were stuffed with meat, slathered in handmade or commercial breading, then fried to a golden brown crisp… absolutely beautiful!
So keep reading until the end to learn more about crab legs, and please leave a comment if you have any questions, feedback, or tips.
FRIED CRAB LEGS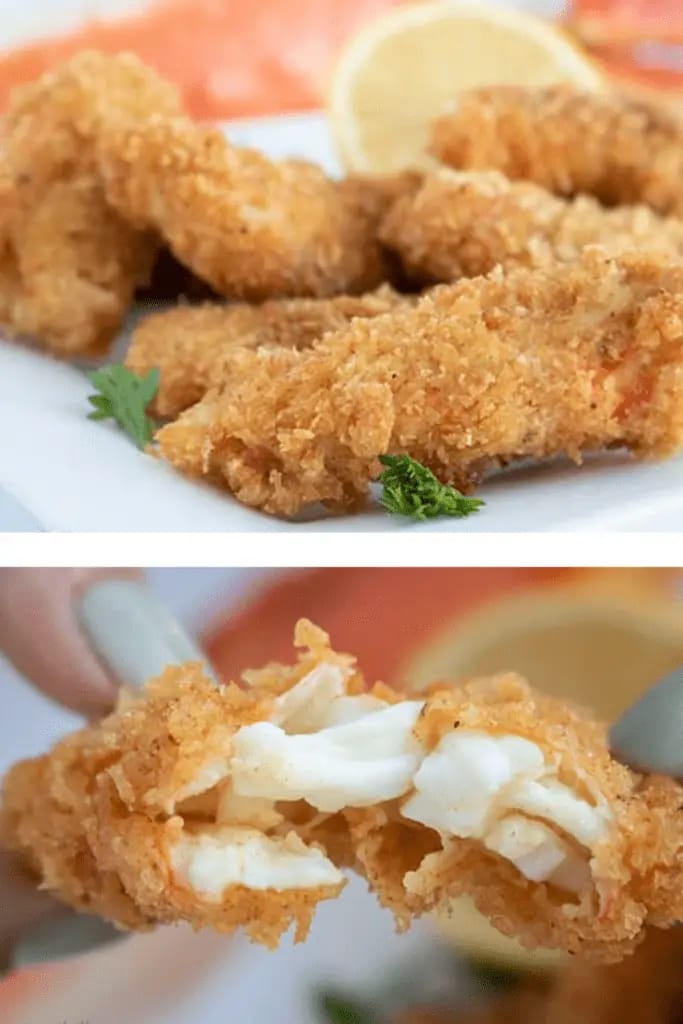 Crab legs can be cooked in a variety of ways, including deep-frying, baking, and even air-frying. The most well-known and delectable method of cooking crab legs is to deep fry them. I realize this isn't the best approach to preparing a healthy dinner. However, it is not a problem to give these fried crab legs a try once.
This is the simplest recipe for deep-fried crab legs; it begins with prepping the legs and extracting the meat from the skin, then coats the crab legs with eggs and breadcrumbs before frying them in heated vegetable oil. The entire preparation should take no more than 20 minutes. As a result, for those who are short on time, it may be a nice option for a quick meal or lunch.
In this dish, I'll be using Frozen King Crab Legs, which can be found on Amazon for roughly $250 for 5lb. However, if you are fortunate enough to have fresh crab legs, this dish will be ideal.
So, follow this simple fried crab legs recipe.
HOW TO STORE FRIED CRAB LEGS
I don't believe there are any leftover crab legs after cooking them. You will never leave a pinch of those alone, believe me. However, if you want to understand how to keep fried crab legs or crab seafood in the refrigerator or freezer, simply follow these simple steps.
In the Fridge
Wrap the deep fried crab legs tightly in heavy-duty aluminum foil or plastic wrap in shallow airtight containers. Fried crab legs will keep in the refrigerator for 3 to 5 days if properly refrigerated.
In The Freezer
You may also store fried crab legs for later use. Simply wrap them in freezing bags or containers and place them in the freezer. Fried crab meat can be frozen for 3 to 6 months.
If you enjoy this deep fried king crab legs recipe, please share it with your friends and families and leave a comment, your feedback is highly appreciated.