Easy 3 ingredients Oreo chocolate cake recipe
Do you want something sweet but don't have much time to bake? Look no further than this Easy 3 Ingredients Oreo chocolate cake recipe! You can make a delicious chocolate cake for any occasion with just a few simple ingredients.
To make this Oreo cake, you'll only need Oreo cookies, baking powder, and milk. What's better? You don't even need to turn on the oven to accomplish this. The cake is only microwaved for a few minutes, making it a quick and easy dessert. Serve it plain or with a quick chocolate ganache on top. The addition of crushed Oreo cookie or chunks of Oreos, as well as the chocolate ganache, will make it look even more impressive!
Ingredients
Directions
Step 1: Separate the Oreos
Open each Oreo biscuit and scrape the vanilla filling into a large mixing bowl. Set aside the Oreo filling.
Step 2: crushed Oreos
Place the chocolate cookies in a Ziploc bag. Crush the cookies into fine crumbs with a rolling pin. Put the cookie crumbs in a large bowl.
Step 3: Mix the cake batter
Combine the cookie crumbs, baking powder, milk, and vanilla filling. Stir until the mixture is smooth.
Step 4: Microwave the cake
Grease a microwaveable silicone cake mold with oil or cooking spray. Cut a round piece of wax paper and place it in the bottom of the mold. Pour the batter into the mold and microwave for six minutes silicone cake mold. Allow the cake to cool completely before removing it from the mold.
You can also bake this in the oven for 10-15 mins at 160C or until a toothpick comes out clean.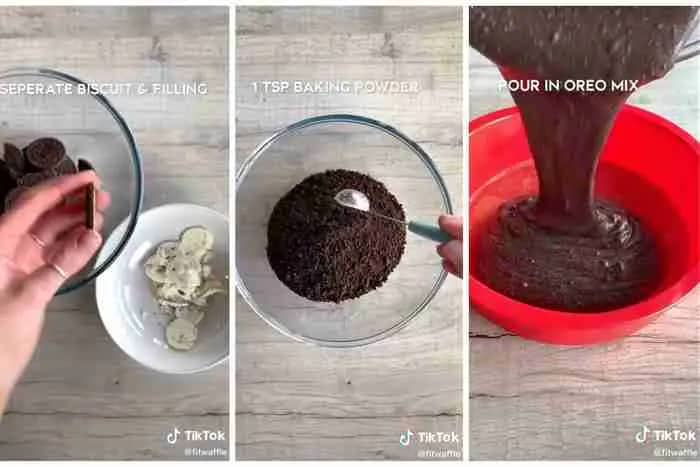 Air Fryer Oreo Chocolate cake
If using an air fryer, preheat the air fryer to 320 degrees F and grease a heat-safe baking dish 6 inches in diameter. Place the pan in the air fryer and cook for 15 minutes. Turn the pan and cook for another 10-15 minutes until a toothpick inserted into the center comes out clean.
Related Posts
How to Make the Chocolate Ganache
To improve the flavor and appearance of the cake, make a quick and easy ganache to pour over the top. Bring 2/3 cup heavy cream to a boil. In a heat-safe mixing bowl, combine 2/3 cup chopped chocolate or chocolate chips. Pour the hot, heavy cream over the chocolate and whisk until smooth. Pour the ganache over the top of the cake when it's cool and allow it to set before digging in.
More Toppings for This Easy Oreo Cake
When the cake has completely cooled, carefully remove it from the pan and place it on a serving plate. To add texture and visual appeal, garnish the cake with the reserved Oreo crumbs. Feel free to get creative and top it with whipped cream, chocolate sauce, or fresh berries.
Cut the cake into generous slices and serve it to your eager guests. As they take their first bite of this delectable Oreo chocolate cake, watch their faces light up with delight.
Equipment
Mixing bowl
Hand mixer or whisk
6-inch silicone cake mold
Cooking spray or butter for greasing
Tips for Success
Make sure to use regular Oreo cookies without any additional flavors or fillings for the best results.
Crushing the Oreo cookies finely will ensure a smooth and consistent texture in the cake.
If you prefer a richer chocolate flavor, you can substitute some of the Oreos with unsweetened cocoa powder.
Feel free to experiment with different toppings such as chocolate ganache, powdered sugar, or even a dollop of vanilla ice cream.
This cake is best enjoyed fresh, but you can store any leftovers in an airtight container at room temperature for up to 2 days.
That's all there is to it! A simple and delicious, easy 3 ingredients Oreo chocolate cake recipe. Enjoy the rich, chocolaty goodness that will leave you wanting more.
Whether you're short on time or a novice in the kitchen, this simple recipe will satisfy your sweet tooth. So gather your ingredients and prepare to embark on a culinary adventure. Enjoy every mouthwatering bite of this divine Oreo chocolate cake!
Frequently Asked Questions

Can I use a different type of milk for this recipe?
Yes, you can use whatever milk you want, including whole milk, almond milk, and soy milk.
Can I make this cake ahead of time?
Absolutely! You can make the cake a day ahead of time and keep it covered at room temperature. However, serving it fresh is recommended for the best flavor and texture.
Can I use reduced-fat or gluten-free Oreos?
Yes, you can.
If you have dietary preferences or restrictions, choose reduced-fat or gluten-free Oreos. The cake will still be delicious.
Can I add additional ingredients, like chocolate chips or nuts?
Certainly! You can add chocolate chips, chopped nuts, or even a drizzle of caramel sauce to your Oreo chocolate cake to make it your own. Just keep in mind that adding more ingredients may change the texture slightly.
Can I make cupcakes instead of a whole cake?
Absolutely! Pour the batter into lined cupcake pans and bake according to package directions. Keep an eye on them, and they're ready to eat when a toothpick comes out clean.
Conclusion
This Easy 3 Ingredients Oreo chocolate cake recipe is a quick and easy dessert that's perfect for any occasion. With only a few ingredients and minimal preparation, you can make a moist and flavorful cake that everyone will enjoy.
The Oreo chocolate cake recipe is easy to follow and only requires 3 ingredients. The cake is moist, fluffy, and bursting with chocolate flavor.
This delicious recipe is sure to please, whether you're looking for a quick delicious dessert or a sweet treat, or a last-minute dessert for a party. So give it a shot – your taste buds will thank you! Be sure to comment and like this recipe if you try it.